I've been meaning to do this for a while now, and while a holiday week may not be the best time to start, I figure I should do it while I've got the time. Today, I'm introducing a series of "Top 5" countdowns here on the blog, simply because I want to share my favorite things with you. Many of these countdowns will be music related, but who knows – maybe in the future I'll share my thoughts on books, food, religion, etc. My hope is that by reading these posts, you'll discover something you like, too.
It seems that people generally appreciate my opinions on music*, so for starters, I'm going with the familiar: rock and roll. This week, I'll be sharing my top 5 favorite rock songs with you.
Please note that these are my favorites. I'm not taking historical significance, critical reception, composition, production, or anything else into account. I'm just sharing what I like. You may discover that you don't like it at all. You might disagree with every single thing I write for the next five days, and that's totally fine. Musical taste is a subjective thing. We can still be friends.
So without further ado, let's begin…
#5: Reeve Oliver – I Want Burns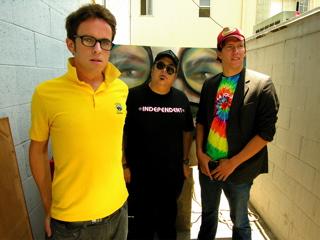 I stumbled on Reeve Oliver back in 2004 when I was browsing through new Militia Group artists on Purevolume. From the very first time I heard the song I Want Burns, I was hooked. No, seriously…I bought their Self Titled record the day it came out, and soon enough I had amassed almost everything they had ever released.
I guess Reeve Oliver is a pop-punk band; Sean O'Donnell  used to play in Dogwood, and after Reeve disbanded he joined Yellowcard for a spell. But to write these guys off as another Starting Line or MxPx isn't a fair comparison. I Want Burns certainly displays a "Weezer meets Green Day" flare, but if your curiosity is even moderately piqued by what you hear, I strongly recommend checking out the rest of their work. Here's the link to their Magnum opus, Touchtone Inferno, on iTunes.
Bonus: check out their appearance on Yo Gabba Gabba. Who doesn't like sandwhiches?
*So long as I'm not being an elitist jerk about it, which occurs more frequently than I'd like to admit.