No, I did not find out about this song because it was the theme for The OC. And out of respect for Arrested Development, I intend to never watch a single episode.
It was 2002, and my family was on vacation. We were channel surfing in the hotel before going to bed when this performance on David Letterman caught my eye: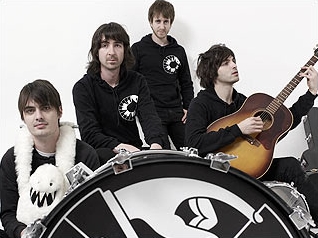 I started watching it about a minute or so into the song, so I didn't hear the name of the band. I spent the next several months trying to track them down (bear in mind this was before the days of Youtube or Yahoo Answers). When I finally did, I considered myself a fan.
Perhaps my favorite thing about Phantom Planet is singer Alex Greenwald's absolute disregard for proper vocal technique. He has an excellent singing voice, but that's not what impresses me about him – it's his performance. If you listen to any Phantom Planet record from beginning to end, you'll hear Greenwald giving 110% the whole time. And I really mean that; he's often singing beyond his voice's breaking point.
I'm more than just a little excited to learn that they're planning a comeback in 2013.
Bonus: Check out their video for Big Brat, possibly one of the coolest music videos ever made. Judging by the youtube comments, apparently this song appears in the latest Spiderman movie, which I have yet to see.