On Easter Sunday, I shared this tweet:
The Christian response to Easter: Philippians 3:10-11

— Mike Harvat (@mikeharvat) April 5, 2015
The passage referenced reads, "I want to know Christ—yes, to know the power of his resurrection and participation in his sufferings, becoming like him in his death, and so, somehow, attaining to the resurrection from the dead" (NIV).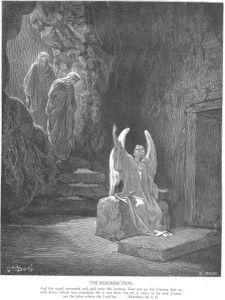 Our hope is in the resurrection. As Jesus rose from the dead, so too will those who put their trust in him. But to what end? The Christian response to Jesus' resurrection is to become like him in his death. That means self-denial. That means seeking God's purposes instead of our own. That means deferring to God when his Word is at odds with our sensibilities.
If Easter is nothing more than an amnesty party, we're selling God short. If Jesus' resurrection has no impact on our lives the week after Easter, or the week after that, and the week after that…then what's the point? Thieves and murderers often return to their old ways after being released from prison; what makes us think we're any different? No, unless we are willing to say "yes" to Jesus and "no" to everything else, we too will return to our folly.
Too often, we forget that God requires something of those who say, "I am a Christian." If we're only given a half-Easter half-Gospel this sounds like a bait-and-switch, but obeying God's commands is not a burden for those who know Jesus! If we're doing it right, if we truly understand what it means to die to ourselves and live unto Christ, it becomes be a joyful, life-giving act of worship.
This is what I know: the old is gone, and the new has come. We need a bigger appreciation Gospel, and a bigger understanding of the Kingdom of God. Thankfully both stretch far beyond our wildest imaginations.
Dietrich Bonhoeffer said, "When Christ calls a man, he bids him come and die." In Jesus' own words:
[Jesus] said to them all: "Whoever wants to be my disciple must deny themselves and take up their cross daily and follow me. For whoever wants to save their life will lose it, but whoever loses their life for me will save it.
– Luke 9:23-24 (NIV)
All I'm asking is that we consider what that means. If we want to become like Jesus, there's no other way.