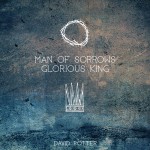 My good friend
David Potter
just released an album of worship songs and hymns called
Man of Sorrows, Glorious King
. I've known David since I was in high school, and I've been bugging him to put out a record ever since. The wait is over, and I'm happy to recommend this CD to anyone who likes quality worship music. Church worship leaders will especially enjoy this project, as it gives a fresh take on some familiar tunes (I'm especially fond of the two-step feel on "Be Thou My Vision"). The original titles are also accessible and suitable for congregational worship.
Unlike many worship projects, this CD isn't just a few "hits" surrounded by deficient fluff. Every track stands on its own, with top-notch production and some of the best musicianship I've ever heard on a local project. The proof is in the pudding: click here to download the song, "All Creatures of Our God and King," for free on Noisetrade.
Here's some basic information about the record, from David:
Man of Sorrows Glorious King is a full length record of both hymn re-workings and original songs for corporate worship.  My hope is to see this collection of songs and hymns serve to remind the church of the beauty and wonder of the Gospel; that a perfect and Holy God would become man, take on the punishment we deserved at the cross, and rise again as the conquering King who offers salvation and new life to His children.

Isaiah 53:3-5 says this about Jesus:

"He was despised and rejected by men, a man of sorrows, and familiar with suffering.  Like one from    whom men hide their faces he was despised, and we esteemed him not.  Surely he took up our infirmities and carried our sorrows, yet we considered him stricken by God, smitten by him, and afflicted.  But he was pierced for our transgressions, he was crushed for our iniquities; the punishment that brought  us peace was upon him, and by his wounds we are healed."

Not the picture of Jesus we tend to remember, is it? And yet Jesus' humility and lowering of Himself "even to death" was a huge part of what made His sacrifice on our behalf acceptable to the Father.  Because Jesus was fully man, God could accept his death for sin as if we ourselves were on the cross, but because he was fully God, His offering was perfected in a way that could have never been offered by sin-stained humans.

And as we know, Jesus (and our) story didn't end at the Cross.  Jesus is the Reigning King, having conquered the grave.  He is seated at the right hand of the Father "in the heavenly realms, far above all rule and authority, power and dominion, and every title that can be given, not only in the present age but also in the one to come" (Eph 1).  This is the great and glorious King we worship!

The idea behind Man of Sorrows Glorious King is to unpack the tension that the title suggests.  That we would wrestle with the weight of what it cost God to make His glory available to us, and then respond to who He is and what He has done for us with passionate, devoted worship.
Click here to download the record on iTunes. Or, if your'e like me, you'll want to order a physical copy here.
For more information about David, visit davidpmusic.com