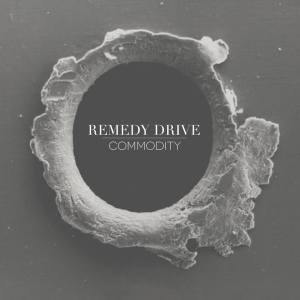 About a year ago, I picked up my friend David from the airport and gave him a ride to The Grid Studio in Lincoln, Nebraska. His band, Remedy Drive, was deep into the recording of their new record, and he was flying in for a few days to record vocals and fine tune a few early mixes.
During the hour-long drive from Omaha to the studio, David opened up to me about how the project was shaping up to be drastically different from their last two studio albums. Remedy Drive was making a conscious decision to forge ahead without a label, to sing and play without second-guessing their lyrical and musical choices. Commodity, as it would come to be known, would be an album on their own terms.
But we've all heard this story before, haven't we? Record labels are evil conglomerates whose sole purpose is to squash creativity and cater to Becky, the 40-year old soccer mom who listens to Christian radio…ahem, religiously. We're supposed to celebrate when bands "stick it to the man" and do their own thing, right?
Yawn.
If the story of Commodity was just another tale of a band breaking free from the shackles of their label, I wouldn't be writing about it. Thankfully, Commodity is a record borne out of of faith, conviction, and most importantly, experience.
David told me he wanted to affect change with this record. He wasn't content just to sing songs this time around; he wanted to do something tangible. In just a few short months, David would be traveling to Southeast Asia to partner with Exodus Road in rescuing children from sex slavery. Commodity is a record about ending this horrendous injustice, and David wanted to take the first step in inviting Remedy Drive's listeners to get involved.
As a result, Remedy Drive has created a record that is not safe for the whole family (when's the last time you heard a song on Christian radio that references atom bombs and uzis?). But it isn't needlessly crass or edgy; rather, it is an album about the dangerous, gritty reality of our time, and how God's desire is for his people to be a part of the solution. When Remedy Drive sings songs about freedom and hope, we are not given the option to write them off as amorphous, ethereal concepts. Just as Jesus proclaimed freedom to real prisoners and real victims of oppression, we are called to be active in doing justice within our 21st-century context.
Commodity is a record that benefits from the gift of credibility lent by the musicians who created it. I can trust David when he laments, "Jesus, where are you? They're far too young. Jesus, how long now? Your kingdom come," because he has witnessed the injustice of human trafficking with his own eyes. These are not cheap lyrics lazily lifted from the Psalms, but the words of a man who is close enough to his Savior to ask questions without the fear of being cut off.
Musically, it is the most cohesive and deliberate record the band has ever made. Producer Philip Zach's contribution marks a sea change for Remedy Drive, but the songwriting and musicianship that fans have come to expect remain intact. Songs like Under the Starlight and Love Is Our Weapon benefit from the influence of current pop production, and flashes of the band's signature sound shine through in various musical moments like the unexpected jam at the end of The Wings of the Dawn. Old school fans are even thrown a bone with The Sides of the North, Remedy Drive's first recorded instrumental in over 10 years.
Will Commodity be accepted by the wider world of Christian music? Who knows. But what I do know is that this is an important record, and it has the potential to speak both into the musical homogeneity and the lyrical blandness of a faltering industry.
I believe in this record. I recommend this record. If you care about Christian music being substantive, cast your vote with cash and buy this record. The album drops on September 23rd, and you can pre-order it on iTunes right now. To read about David's experiences with the Exodus Road, check out his blog.