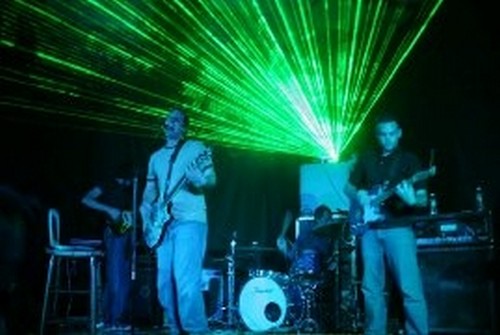 Between 1998-2000, I published an e-newsletter called United in Christ. One of my favorite features for the newsletter was a series of interviews with Christian bands (and one television personality). Presented below is my interview with Adam Phillips from the band Glisten.
Check it out! An exclusive interview (just for this newsletter) with drummer Adam Phillips from Glisten! Glisten is a four piece Christian band who is currently opening for Bleach on the PeaceMaker Tour.
So, how did you guys come up with the name "Glisten"?
It means "to reflect light". We want reflect the life of Christ. On stage, and off.
How did the band get started?
Jason, our original bass player, and I were in our early teens when we formed glisten. Jason played guitar, and I wanted to learn an instrument that would compliment his, so I chose the obvious: drums. We played locally (Texas) for about 4 years, then we were signed to KMG Records about a year ago.
How would you describe your sound?
We're pretty much just modern rock.
What bands have influenced your sound?
The Prayer Chain, Starflyer, Poor Old Lu, The Cure, Depeche Mode, Sunny Day, etc…
How did you guys come up with the song "Mothership"? (It's my favorite song)
"Mothership" is a metaphor for Christ and His return to earth. Jason writes all of the lyrics, and this song was birthed from a sense of longing (for His return) when gazing at the sky. Hence, the "spacy" feel.
What is your favorite Glisten song?
Probably "Abandon All". The lyrics are probably the strongest in this song. They speak of doing what God asks of you, even if it means turning your back on your own family.
What type of sticks do you use?
Vic Firth 2B wood tips
What is your favorite movie?
Probably "Spinal Tap"
Currently you're on tour (or at least you were) with Bleach and Viva Voce. How did you land a spot on the tour and how's it going?
Bleach was looking for another opener, and their manager had heard our album in the studio, and contacted KMG about adding us to the tour. We are a little over halfway through, and it's going really well. We couldn't ask for a better group of people to tour with. Bleach and Viva are really cool. Even the sound and light crew are cool! We have a Bible study, free food, and hotel rooms. We feel really blessed to be a part of the whole thing.
What are your future plans as a band?
To do what we've done from square one: follow the Lord's leading! If He wants us to tour the world, we will. If He wants us to go back to only playing local shows, we we'll do that to.
What are your favorite bands?
To many to list, but basically the bands mentioned in question 4.
Thanks a lot, and good luck with Glisten!
Click here fore more United in Christ interviews from Hokus Pick, Satellite Soul, and more.