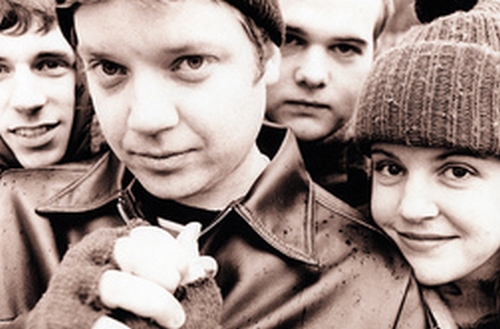 Between 1998-2000, I published an e-newsletter called United in Christ. One of my favorite features for the newsletter was a series of interviews with Christian bands (and one television personality). Presented below is my interview with Bryan Everett of the band Pep Squad.
This week I found time to get an interview together with Bryan Everett, of the punkish Christian band, Pep Squad!!!
Okay, here's the question you must always get…how did you come up with the name Pep Squad?
Pep Squad was originally going to be an all girl band. Kim used to play the drums and was looking for other girls to be in a band with. She named it Pep Squad.
How did the band get started?
I told Kim I would help her write some songs for her new band, then I ended up being in the band myself. it was too much fun doing music with my sister. We got some more people for the band and the rest is history.
How would you describe your sound?
We're sort of a messed up pop/punk band. We don't know what we are or what we're doing really.
What bands have influenced your sound?
Lots. We listen to everything from The Gipsy Kings to Amy Grant.
Have you ever had any strange experiences at a concert?
Yes, at one concert in Canada, the singles group worship band that played after us, tried to cast the demons out of us. It was wierd. I think they got frustrated because they couldn't get any out of us.
Overall, what is your favorite song that you've written?
Probably, "Birds and Fleas"(Yreka Bakery) and "New baby Doll" (Rock for life vol. 2).
What are your future plans as a band?
We're going to record another cd for Tooth & Nail and sees what happens from there. We are also planning to do a video.
Do you have any further words of wisdom or comments about the United in Christ Newsletter?
I don't know who you guys are, so I can't comment on you. But I would like to tell everyone reading this, to keep on serving the Lord with all your heart.
-Bryan Everett
Pep Squad
8/13/99
Click here fore more United in Christ interviews from Hokus Pick, Satellite Soul, and more.