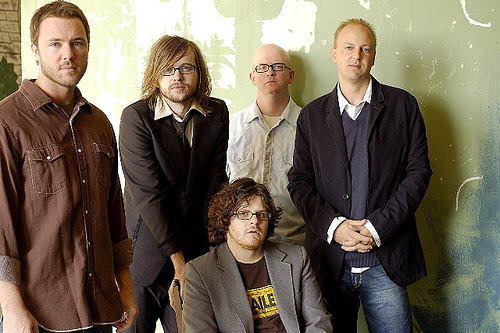 Between 1998-2000, I published an e-newsletter called United in Christ. One of my favorite features for the newsletter was a series of interviews with Christian bands (and one television personality). Presented below is my interview with Tim Suttle of the band Satellite Soul.
Here's the interview I got together with Tim Suttle for!!!
Okay, here's the question you must always get…how did you come up with the name Satellite Soul?
We were playing for awhile under the name tim suttle and the great sleeping adams. we stole the line from a rich mullins song – he's my hero. but when labels began to show interest, they kept telling us our name was too long, too long! So we started dreaming up new names. We were trying to find something that was fairly unassuming and we came upon the same satellite. Long ago the word satellite was used to describe those who attended to a dignitary or were a subserviant follower of another person. When kings would walk around their castles and hold meetings about their kingdoms, they would be accompanied by their satellites. We figured that was a good way to describe who we are, satellites to the king.
How did the band get started?
I have been playing out for over 10 years now. Most of those years were spent on my own, but in 1995 I had booked a few dates which needed a band. I just found some guys who were around my area, that is Manhattan, KS. We played together for two shows and everyone liked it. By the end of the year we had played 130 times and by the end of the next year, we had a national release.
How would you describe your sound?
I guess the way to describe our music is acoustic, folk-rock. However, I'm always a little bit sceptical of calling us a rock band, we don't rock very hard. I think that I like to describe our music as spiritual and sincere. Sort of midwestern, no holds barred, no pretense kind of straight forward music with lots of meaning. I would never want to be known as having nothing to say, so I make sure the songs I write express something I've learned to be true about life.
What bands have influenced your sound?
Our sound has been influenced most by Rich Mullins. Everyone after that is a distant second. But I do like Toad the Wet Sprocket, the Samples, Old James Taylor, Tom Petty and folks like that.
A while back you released a self-titled album. Do you feel that the project was a success?
It depends on how you define success. We sold 30,000 copies. So by industry standards, we're no Jars of Clay. But I'll tell you this, I bet we shared the gospel with more people than Jars of Clay last year. If success in Christian music is selling records, and for the most part I'm sad to say that it seems to be, then I would not say we were a shining success. Yes we did better than most Christian bands. I heard a statistic the other day that the average record released in America sells only a thousand copies, so we beat the average.
Still I have to believe that there is much more to success than how much money you generate for a label that's not even owned by a Christian. I think that being a success is day by day submitting yourself to the will of God and conforming yourself to the likeness of Christ. In thinking that way, I believe that your vocation becomes an offspring of your relationship with Christ. I am not called to be a big thing in Christian music, I am called to Christ, and my ministry flows from there.
What's the story behind "Fool", off of Satellite Soul?
fool is just standard corinthians stuff. what a great thing to play the fool for world lost and alone. what a great thing to understand and believe the foolish can shame the wise and that there is an eternal perspective that turns the fools for christ in this world into the saints of knowledge in the next.
"Say I Am" was a big hit for you guys. When you wrote the song, did you feel that it was an instant hit, or was it just another one of your songs?
i try to never think in terms of whether a song will be a hit or not. i remember on that song i was listening to hooty one day and thought, i really need to write just a simple happy song that you can sing to. i was thinking about in concert stuff and was hoping that people would enjoy the song. that's usually what i think about when i think of our audience – not so much radio though it does play a small part.
What inspired you to write the song, "He Can"?
i was just thinking about what would i have thought of christ had i been alive at the time of his ministry. i'm such a skeptic but at the same time, i'm a dreamer who follows his heart to a great degree. so it's just an experiment in what people must have thought if they had seen christ, resonated with his teaching, then watched him die and were left with an empty feeling.
Just recently you released "Great Big Universe" Any songs we should be looking out for on that release?
well, great big universe is at #8 and climbing. so that should be cool. we're gearing up to release the second song, revive me. it will go not only to chr but also to ac radio. i hear the next single after that could be always the same but you never know.
Have you ever had any strange experiences at a concert?
too many to count. i did have a nose bleed on stage once. and one time my allergies were band and i had a sneezing fit.
Overall, what is your favorite song that you've written?
that's hard to say, i'll have to give a top five. equal to the fall. always the same. these fields. either way. set me free.
What are your future plans as a band?
we are just taking things one day at a time, trying to live lives that are pleasing to god. try to let the character of christ be more fully formed in us. then we will be able to test and approve the will of god.
Do you have any further words of wisdom or comments about the United in Christ Newsletter?
don't eat yellow snow…
be god's
Click here fore more United in Christ interviews from Hokus Pick, Glisten, and more.